DLL6010-R The Dragon™
Cordless industrial laser gun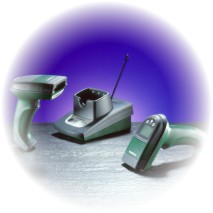 FEATURES
•
Three versions available:
- DLL6010-R NM without display and with NiMH batteries
- DLL6110-R NM with display and NiMH batteries
- DLL6110-R NM Long Range with display and NiMH batteries
•
Robust yet light weight (340 gr.)
•
Point to Point and Multipoint transmission
•
Base RF station with smart battery charger
•
Smart battery charger for multipoint applications
•
Field update firmware via OM6010-R
•
Operating temperature: -10 to 40 °C
APPLICATIONS
| | |
| --- | --- |
| • | General use in harsh environments |
| • | Work-in-progress control |
| • | Warehouse management |
| • | Shipping and receiving control |
| • | Cash & carry retail applications |
| • | Fork lifts |
| • | Passenger Ticket Control for the Ferry Lines |
GENERAL DESCRIPTION
The Datalogic industrial laser scanner DRAGON™ series is enriched by two new models and three versions with radio frequency data transmission.

The DLL6010-R and DLL6110-R laser guns communicate through a low power, license free radio in the 433 Mhz (910 Mhz for USA version) band.

The operator is not limited by a cable and the device can be used up to 50 meters away from the base station. In all applications where a particular amount of mobility is necessary, the new cordless guns represent the key to increasing productivity and flexibility in the working area.

All models are equipped with bi-directional communication between the base station and the host. Therefore, they can transmit the code read and receive confirmation of correct reading in real time. The DLL6110-R version also includes a display and 3 push-button keyboard.

Thanks to these characteristics, the operator can receive information from the host, actively interact with the central system and visualise the code read.

The cordless system supports 2 types of use:
| | |
| --- | --- |
| • | Point to Point : each gun is associated with its own base station. |
| • | Multipoint: many guns (up to 32) transmit data to one base station. |
Communication from the base station to the host can occur in 2 ways:
| | |
| --- | --- |
| • | Through an integrated multistandard decoder interface (connection possibility through RS232, Wedge, Pen) |
| • | In LAN through an optional ECHELON module (up to 64 interconnected bases) |
The Ni-Me-Hy batteries guarantee high autonomy: more than 60,000 reads in the covered area. It can also be used with commercial AA size Alkaline batteries.
Besides its robustness, durability and reliability, the DRAGON™ line offers a new way to boost productivity in many application fields.
APPLICATION SOLUTIONS
Thanks to its powerful architecture, the Datalogic Cordless system represents an ideal and cost effective solution expanding and optimizing your data capturing application.

Given that the scanner goes where you go, you can take it to the job, rather than taking the job to the scanner. This freedom of movement determines an amazingly increased level of productivity, making jobs easier, faster, smoother.

The DLL6010-R system is designed for tough industrial use, but it can conveniently cover applications in many other fields, thanks to its ergonomic design and light weight.

In factory or warehouse applications, DLL6010-R is a winning card: loading docks, shipping and receiving, inventory control and work in progress are the main activities that gain an incredible advantage with freedom from cable constraint.




Eliminating the cable and thanks to the possibility of visualizing information on the field (display versions only) provides the user with major benefits such as no worries about broken cables, no problems of entanglement in machinery and equipment, no need to verify data acquisition on the video of the host, and undisputed safety in data transaction.

Fork lift truck applications also based on vehicle RF terminals receive significant advantages in using the DLL6010-R system as a local extension of their data capturing capability.
SPECIFICATIONS
•

LIGHT SOURCE
670 nm (G.P.); 650 nm (L.R.)

•

MAXIMUM RESOLUTION
0.12 mm (G.P.); 0.25 mm (L.R.)

•

SCAN RATE
36 ±3 scan/sec

•

PRINT CONTRAST RATIO (min.)
15% (G.P.); 40% (L.R.)

•

READING FIELD
See diagrams

•

DEPTH OF FIELD
See diagrams

•

READING DISTANCE
See diagrams

•

READING INDICATORS
Laser ON, Good Read / Good transmission, Beeper

•

DISPLAY (DLL6110-R)
Graphic with backlight, 32 x 96 dots, font dimension selectable by user (with default selection 4 lines x 16 columns are available)

•

KEYPAD (DLL6110-R)
Membrane keypad with 3 keys

•

BAR CODES
2/5 family, code 39, (plus code 32, CIP39), EAN128, EAN/UPC, code 93, code 128, codabar

•

RADIO
Operating range: Up to 50 m (depends on working area)
Frequency range: 433.05-434.79 MHz (909.94 - 910.06 MHz for USA version)
Radio power: < 10 mW

•

BATTERIES
DLL6010-R/DLL6110-R*: NiMH (3480 mWh)
*All AA (NiCD and Alkaline) batteries can also be used

•

AUTONOMY
Over 60,000 with NiMH batteries (Test mode: 100 reads/min)

•

DIMENSIONS
203.0 x 117.2 x 68.9 mm

•

WEIGHT
340 g

•

CASE MATERIAL
ABS and polycarbonate, plus co-moulded rubber

•

LASER CLASSIFICATION
Class 2 (IEC 825-1 CDRH)

•

AMBIENT LIGHT CONDITIONS
Immune to light exposure in offices and facilities, and direct exposure to sunlight

•

OPERATING TEMPERATURE
-10 to 40 °C

•

STORAGE TEMPERATURE
-20 to 50 °C

•

HUMIDITY
90% non condensing

•

DROP RESISTANCE
IEC 68-2-32 Test ED; withstands repeated drops from 2 m onto a concrete surface

•

ENVIRONMENTAL PROTECTION
Immune to water and dust

•

BASE STATION
Power supply 10 to 28 Vdc
Dimensions without antenna: 185 x 115 x 104 mm

•

INTERFACES (with OM6010)
RS232, Wedge, Pen

•

BATTERY RECHARGING
2 hours for NiMH
MODELS
•
DLL6010-R NM
Cordless laser gun, General Purpose scanning engine, no display, NiMH batteries
•

DLL6110-R NM
Cordless laser gun, General Purpose scanning engine, with display and keypad, NiMH batteries

•

DLL6110-R NM LR
Cordless laser gun, Long Range scanning engine, with display and keypad, NiMH batteries
ACCESSORIES
•
OM6010-R RF
Base station/charger with multistandard interface
•

C6010-1
Smart battery charger

•

LA6010
Echelon network kit

•

B6010-NM
3480 mWh Ni-Me-Hy battery set

•

PB6010
Nylon protecting boot

•

HLS6010
Belt support

•

System manual
DLL6010-R/OM6010-R system manual

•

PG110
Power supply unit (110 Vac to 12 Vdc)

•

PG220
Power supply unit (220 Vac to 12 Vdc)

•

Cables
See HHD standard cable series
READING DIAGRAMS
| | |
| --- | --- |
| • | General Purpose model |
| | |
| • | Long Range model |
SYSTEM CONFIGURATION
The basic configuration of the DLL6010-R system consists of 1 gun (DLL6010-R) and 1 cradle (OM6010-R).
In this case, a configuration is called point-to-point (fig. 1) and in terms of use, one has the same functionality of a standard gun without any cable constraint.

When more than one gun (up to 32) is connected to a single cradle a multi-point configuration is created (fig. 2). A multiple user data collection is available in the range of 50 mts with no cabling requirements.
Fig. 1
DLL6010-R point to point connection

Fig. 2
DLL6010-R multi-point connection
The system can be completed with gun battery chargers, namely C6010, in order to make the whole system less expensive.
Moreover, different cradles can be connected to each other in a local area network configuration (fig. 3).
In this case, the first cradle becomes the master. It manages communication with its own slaves (up to 63) over a maximum length of 1300 meters. Network connection requires the optional field upgrade ECHELON kit. This possibility is available both with point to point and multipoint configurations.
Regarding communication between a remote gun and a cradle/host, we can identify two typical modes; the first with audible feedback from the cradle the second with visible and audible feedback from the host.
Fig. 3
DLL6010-R Network (Echelon kit required)

Fig. 4
DLL6010-R communication
The first mode is typical of the gun model without display (connection A - fig. 4). When a code is read the data is sent to the cradle and then to the host. The user hears a beep tone signaling that the code has been read and transmitted. A second short beep confirms that the data has been correctly received by the CRADLE (acknowledge). The cradle, offered with integrated multistandard decoder, immediately sends the data to the host (connection B) through the selected interface (WEDGE, PEN EMULATION or RS232).
The second communication mode is possible when RS232 is selected (connection B). It provides the greatest advantage when used with the DLL6110-R (with display). In this case, the system performs a virtual connection C, where the host can talk directly to the gun.
The HOST system can send back a variety of messages or custom beeps, thanks to the easily programmable ESCAPE sequences (based on the VT100 set). In this manner, the use of the three keys available on the display version let the user interact with the host in a simple and intuitive way (ex: YES, NO, CONFIRM etc according to the software developed on the host).